EXCLUSIVE PLAYER ALUMNI RESOURCES FISHING TRIPS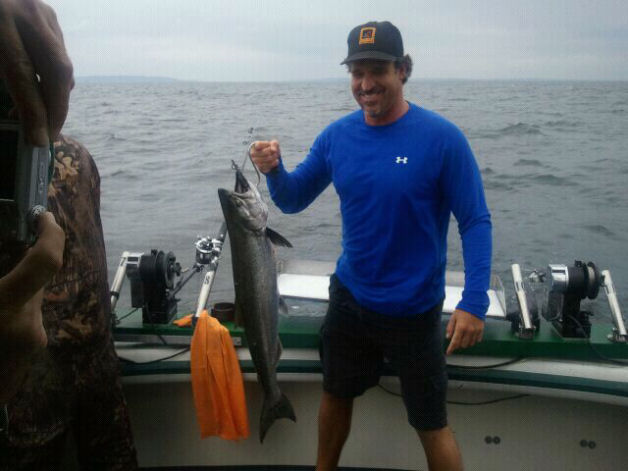 Have a Player Alumni Resources Team Member Join Your Next Fishing Adventure or Event
If you are looking for a one-of-a-kind fishing trips with family or friends, add Alumni Packers players to join your fishing charter. Our Player Alumni Resources team members take pleasure in sharing their personal memories and football experiences. Our team, made up of some of the greatest legends of Lambeau Field (including over 20 members of the prestigious Green Bay Packers Hall of Fame), will gladly share with you and your guests some of their personal memories and favorite experiences from their playing days. Go Pack Go!
Each Player Alumni Resources team member will take photos and sign autographs to ensure your day of fishing is a truly memorable one. Most importantly, the alumni of your choosing will ensure that you have a truly memorable experience while reeling in the catch of the day!
Our fishing charters are coordinated through our preferred partners listed on this page. For more information or to schedule your next fishing charter with Alumni Packers players, contact our preferred fishing charters or complete our Contact form and a member of our team will contact you within two business days.
Enjoy a Unique Corporate Fish-and-Learn Event™
Corporate training can and should be so much more than a string of speakers stuffed inside a conference room. When it comes time to plan your next corporate training event, plan an event with Player Alumni Resources that will have your team shouting "Go Pack Go"! Player Alumni Resources partners with Inspired Institute Inc., to coordinate Fish-and-Learn corporate training events for corporate teams, departments, or workgroups. These include corporate training events in the morning and fishing in the afternoon.
For more information or to schedule a fish-and-learn corporate training event, complete our Contact form and a member of our team will contact you within two business days.